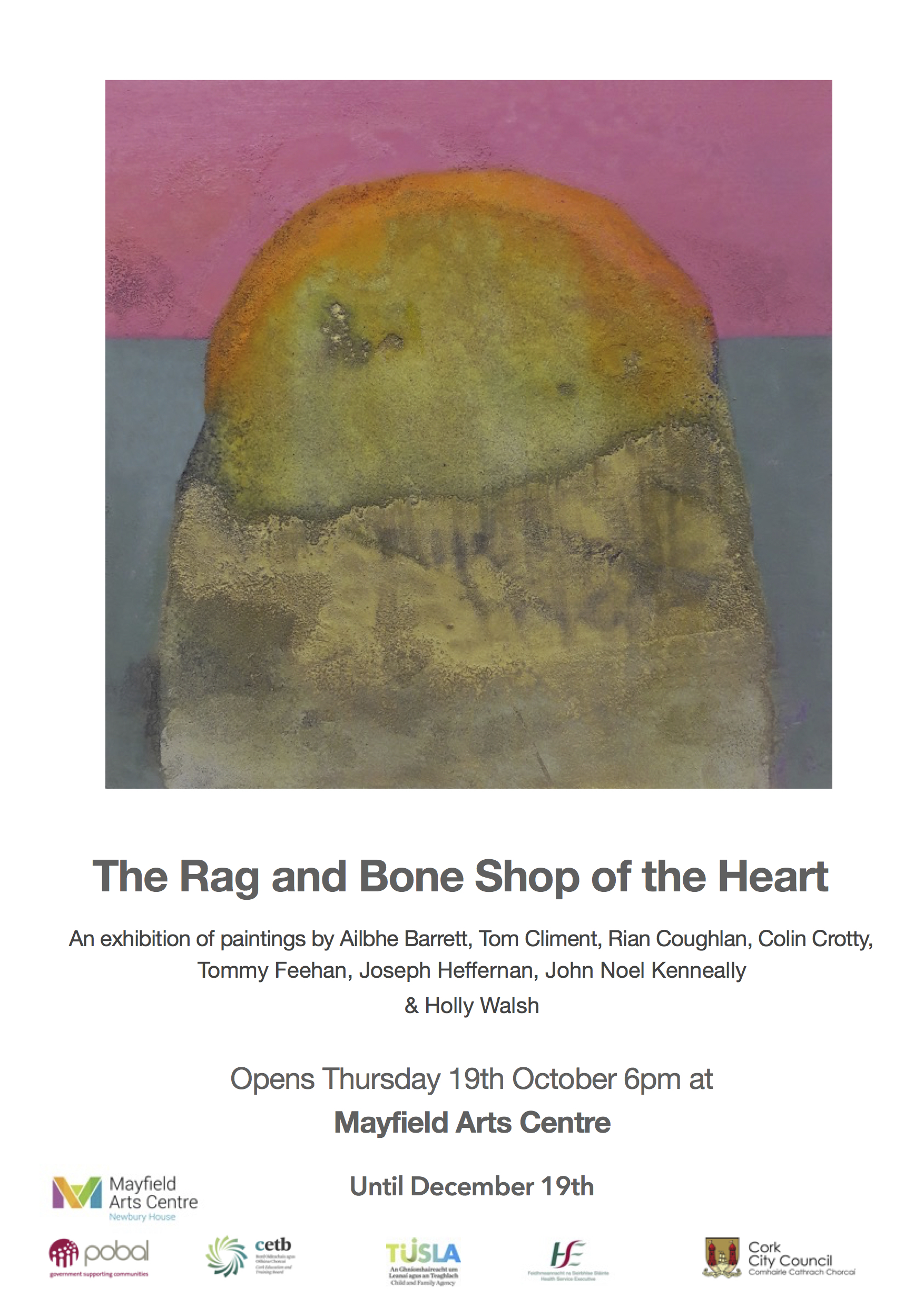 We are very excited to host 'The Rag and Bone Shop of the Heart' an exhibition featuring Cork painters Ailbhe Barrett, Tom Climent, Colin Crotty, Tommy Feehan, Holly Walsh, Rian Coughlan, Joseph Heffernan and John Noel Kenneally.
Opening Thur October 19th at 6pm at Mayfield Arts Centre until December 19th
Quoting WB Yeats' poem The Circus Animals' Desertion, via James Elkins text on the relationship between painting and alchemy; What Painting Is, this exhibition explores the "materia prima" of painting. This is the idea, in alchemy, of every substance that has a beauty or spiritual significance, being created in squalor and refuse. Elkins finds an equivalence to this in the painter's studio. This is often a place of chaos and disorder, "coloured mud" and chemicals, out of which a visual language emerges.
The artists in this exhibition create works of art out of very distinct and individual vocabularies of paint. Tom Climent and Ailbhe Barrett both take up interesting positions in exploring a central paradox of painting- that of flatness versus depth. Climent's paintings investigate the boundary of representation and abstraction and explore spatial constructs and natural phenomena. Mantle opens up a space where ideas of alchemy, art history, representation, and the substance of paint, collide. Ailbhe Barrett's Father Von Trapp, on the other hand, offers a deeply personal representation of an icon of cinema history, constructed with a medieval flatness. Bursting with personality, the work acts as a portrait of stern masculinity.
John Noel Kenneally and Tommy Feehan both allow the complexity of everyday life to feed into their practices. Feehan's anarchic, stream-of-consciousness outpourings find an interesting counterpoint in Kenneally's commemorations of pop cultural ephemera and the experiences of himself and his friends.
Colin Crotty's elusive gems are concerned with questions of community and shared experience. Their dreamlike aura suggest Utopia or paradise but always withhold it from the viewer, leaving it tantalisingly out of reach. Holly Walsh's immersion in the wild natural elements of West Cork has influenced her spontaneous, semi-abstract responses to the landscape. Her sophisticated marks make visible not only external elements of the landscape, but also an internalised response to it.
Both Rian Coughlan and Joseph Heffernan manage to take a fresh approach to using mass media images as source material. Joseph Heffernan's "Monument" leads us to question where we are, or even what century we are in, as well as challenge the veracity of what we are seeing. Rian Coughlan's ambiguous paintings are also reconstructed from pre-existing images. By disrupting contextual information in the image, the resulting painting becomes located outside of our chronological framework.
The roles of painting in the 21st century are constantly being redefined , whether as mode of interpreter of images, repository of cultural memory, or of mediator of personal experience to name but a few. The Rag and Bone Shop of the Heart showcases the strength and diversity of painting practice in the city today.